Mexican-Italian Christmas Wedding (a.k.a. Russian Tea) Cookies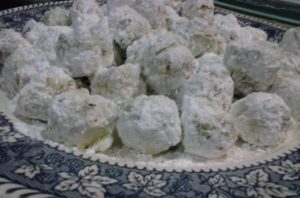 1 Cup of Soft Butter
 1/2 Cup of Sifted Confectioners' (Powdered) Sugar
 1 Tsp of Vanilla
 2 1/4 Cups of Sifted Gold Medal Flour
 1/4 Tsp of Salt
 1/2 Cup of Finely Chopped Walnuts
Melt your butter in a large microwavable mixing bowl.
Add your vanilla, salt, sifted confectioners' sugar and sifted flour to the butter.
Mix thoroughly.
Add the 1/2 cup of finely chopped walnuts.
Stir or fold the nuts into the dough mixture with a wooden spoon.
Roll the dough into balls with a 1/2″ – 1″ diameter.
Place the dough balls on an ungreased cookie sheet.
Preheat your oven to 400 degrees.
Bake the cookies for 10-12 minutes.
Roll the cookies in the confectioners' sugar and let them cool.