Meatballs in Chinese Sweet & Sour Sauce
Meatballs in Chinese Sweet & Sour Sauce
  Meatballs
Ingredients
1 lb of ground beef
3 cloves of garlic
1/4 cup of onion
1/4 cup of parsley
1/2 tsp of salt
1/2 tsp of pepper
1/2 tsp of oregano
1 egg
1/2 cup of breadcrumbs

Directions
In a large mixing bowl, stir all of the ingredients together.
Shape about 30 meatballs 1″ across.
Fill your frying pan with about 1/2″ of oil
Fry the meatballs for about 5-6 minutes until golden brown.
Remove the meatballs from the oil and place them in sauce-filled pan or on a baking sheet to cool and store for future use.
Chinese Sweet & Sour Sauce
Ingredients
1 can of pineapple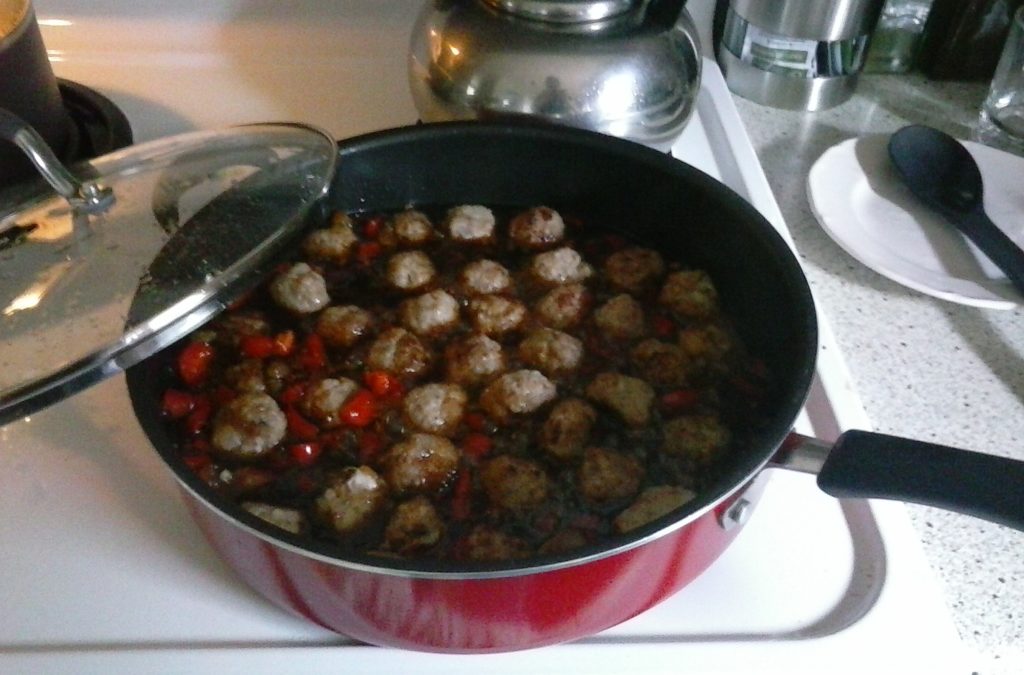 2/3 cup of water
6 tablespoons of vinegar
2 tablespoons of soy sauce
2 cups of brown sugar
3 tablespoons or cornstarch
1 green pepper chopped into 1 inch pieces
1 tablespoon of olive oil
Directions
Add oil and green pepper to a large sauce pan.
Fry your green pepper over high heat until it browns a little.
Add your pineapple, water, vinegar and soy sauce to the pan.
Stir.
Combine your brown sugar and cornstarch to the mixture.
Continuously stir until all of the sugar and cornstarch is melted.
Lower the heat to medium and let the sauce thicken.
Add meatballs and let simmer for 15 minutes.