Doctor Bird Recipe

Note: This recipe makes approximately 25 cupcakes or two 9″ round cakes.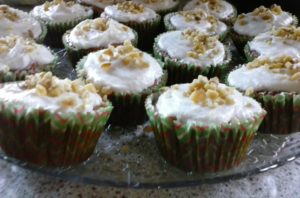 Cake Batter Ingredients:
 3 cups of sifted flour
 2 cups of sugar
 1 tsp of cinnamon
 1 tsp of baking soda
 1 tsp of salt
 1 8 oz. can of crushed pineapple
 2 cups of chopped bananas
 1 1/2 tsps of vanilla
 1 1/2 cups of cooking oil
 3 eggs
 1 cup of chopped walnuts
 2 medium sized mixing bowls
 2 greased 9″ round cake pans or 2 cupcake baking pans
Icing Ingredients:
 3 cups of powdered sugar
 3/4 cup of Crisco
 1 tsp of vanilla or orange flavoring oil
 1/4 cup of water
Batter Directions:
 Combine your dry ingredients in a medium sized bowl:
         Add the sifted flour, sugar, cinnamon, baking soda and salt to the bowl and mix the ingredients together.
 Combine your wet ingredients in a medium sized bowl:
         Add the eggs and beat them.  Then, add the crushed pineapple, chopped bananas, vanilla, and oil.
 Combine your wet ingredients and dry ingredients in one bowl with a beater.
 Add the chopped walnuts to the mixture.
 Scoop the batter into a cupcake pan or place half of the mixture into each 9″ greased round cake pan.
 Bake the cupcakes at 350 degrees for 45 minutes or bake the cake at 350 degrees for 1 1/2 hours.
Icing Directions:
 Add the powdered sugar and Crisco to the mixing bowl:
When adding the Crisco, divide it into 1/2″ pieces and blend it into the sugar with a fork.
 Beat the vanilla and water into the mixture.
 Wait at least an hour for your cake to cool before putting the icing on it.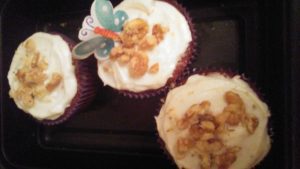 Cake/Cupcake Décor Ideas:
Top your cupcakes/cake with coconut, walnuts and/or fruit.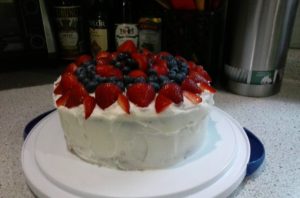 em>