There's a New "Chipotle Style" Restaurant in Town
"Chipotle style" restaurants that serve customers with fast, healthy food in a casual dining environment are popping up everywhere. These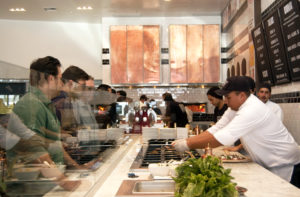 restaurants are the happy-medium between fine dining and fast-food, and they are becoming more prominent in our health conscious culture.
Our society is not only becoming more health conscious but more life-style conscious as well. People not only care about what they are eating. The environment in which they eat is important as well. Customers want to enjoy their food in a comforting atmosphere that allows them to open up and converse with family and friends. With that thought in mind, I think that we are going to continue to see an uprising of "Chipotles" taking the lead in the restaurant realm.
There's a new "Chipotle Style" restaurant in our town. It's called "Marzano's" and is located right next door to a Chipotle! They serve flavorful Italian pasta bowls, wraps, pizza, subs and salads made to order in a Chipotle manner. Their most famous item is the pasta bowl. It contains noodles, veggies, cheese and sauce combinations, such as pesto and vodka. An online Marzano's menu is available here. My bowl, the San Remo (with no bacon and added mushroom and cranberry) certainly passed the taste test!